| | |
| --- | --- |
| | |
---
Posted: 29 Oct 2016 04:27 AM PDT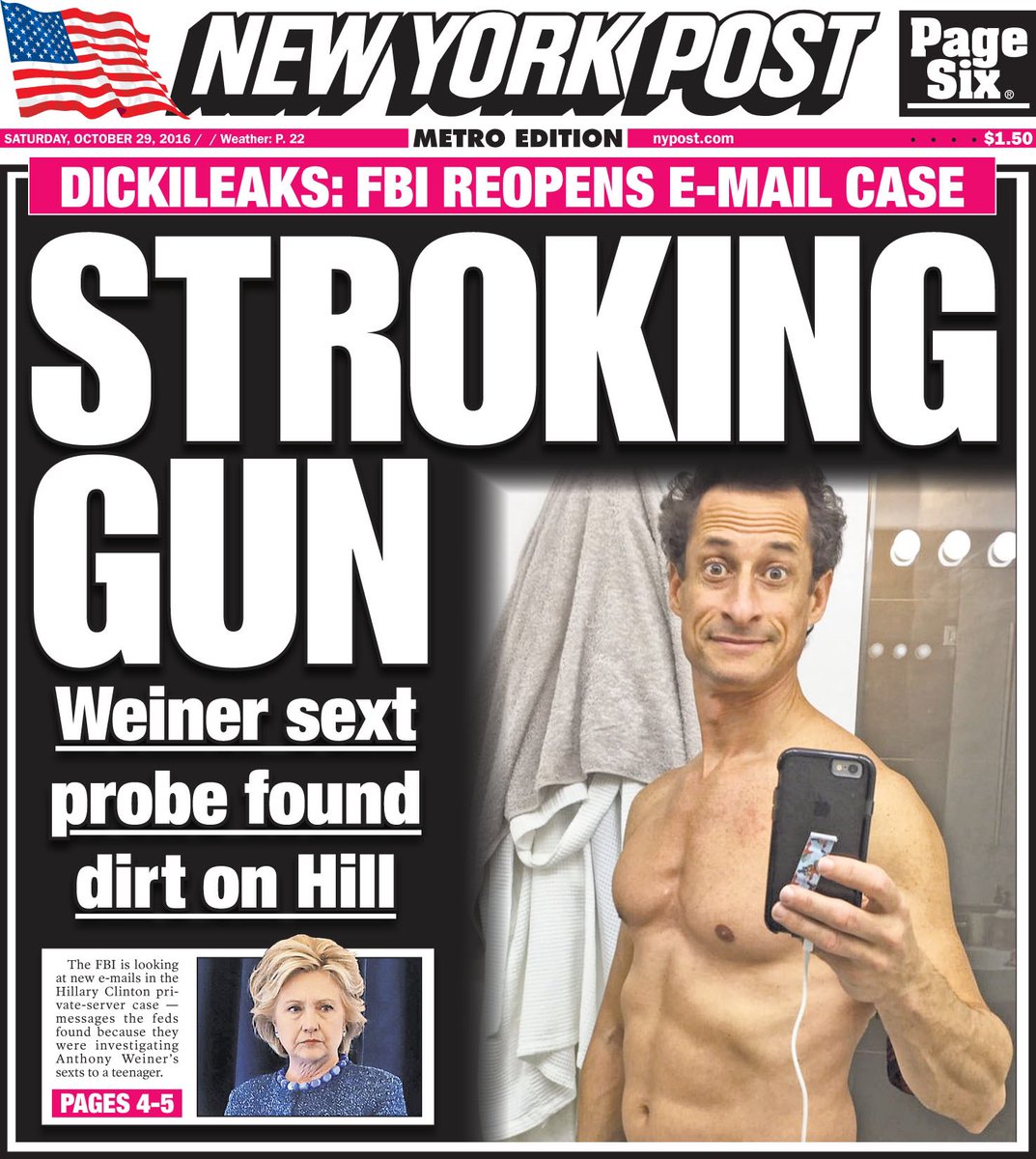 An absolutely astonishing Security Council (
SC
) report circulating in the Kremlin today details an extended telephonic conversation held Thursday between President Putin and Federal Bureau of Investigation (
FBI
) Director
James Comey
wherein America's top law enforcement officer asked Russia's leader "Is
Anthony Weiner
yours?", to which Putin replied, "You should ask
Aleksandr Poteyev
"—and that led, less than 24 hours after this call ended, to
Hillary Clinton being placed, once again, under FBI investigation
. [Note: Some words and/or phrases appearing in quotes in this report are English language approximations of Russian words/phrases having no exact counterpart.]
According to this report, Director Comey's call to President Putin was in regards to the Foreign Intelligence Service (
FIS
) this past Tuesday advising all Federation security and intelligence organizations to cease all contact and cooperation with the FBI—and that we detailed in our report titled
Russia Breaks All Contact With Hillary Clinton's "Ministry Of Terror"—Once Called The FBI
.
With "many/numerous" joint terrorism and international criminal investigations currently ongoing between FIS agencies and the FBI, this report continues, Director Comey expressed his concerns to President Putin that the ending of them "would/could" cause "dangers/alarms" to both the Federation and United States—to which President Putin agreed, and in a bid to ease Russian-US war tensions publically stated after this call ended that "
Russia is not going to attack anyone, that's ridiculous
".
Though not the "main/central" focus of their conversation, this report notes, President Putin did become "annoyed/perturbed" when Director Comey asked him about former US Congressman Anthony Weiner (aka
Carlos Danger
) while seeming to allege that he was in some way a Russian spy—and that President Putin bluntly replied to by reminding Director Comey that the correct person to ask that question to was former Foreign Intelligence Service (
SVR
) officer Aleksandr Poteyev, whose location could be found by asking the US Central Intelligence Agency (
CIA
).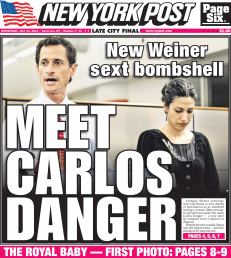 SVR officer Poteyev, this report details, was the "overseer/director" of a Federation "
honeypot
" intelligence operation operating in the United States whose mission was to "discover/unmask" high ranking American elite politicians, bankers, businessmen, etc.,
preying upon young Russian girls brought to that country to perform pedophile sex acts
.
Once these sexually deviant elite Americans who preyed upon these young Russian girl children were identified by the SVR, this report explains, they were put under electronic surveillance—and once being notified of this, many of them volunteered to assist the Federation in "other meaningful ways".
This highly successful SVR operation was, however, destroyed, this report continues, when SVR officer Poteyev turned against the Federation and became an operative for the American CIA—who this past July, immediately after FBI Director Comey announced Hillary Clinton would face no charges for her crimes, was suddenly
declared dead (without any evidence) by the CIA
, but that
the SVR knows is not the truth
.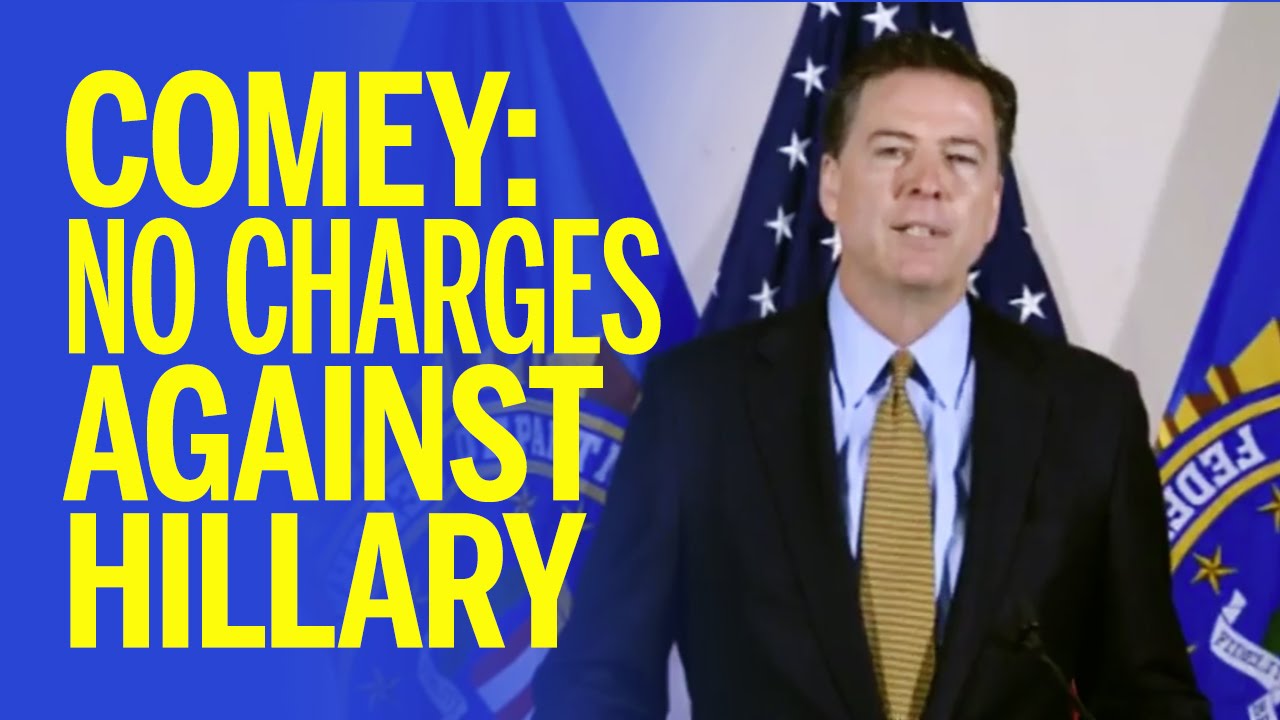 Master SVR intelligence officer
Anna Kushchyenko
(in the US known as Anna Chapman) just prior to her and other SVR "operatives/specialists" being betrayed to the CIA by Poteyev, this report continues, had identified US Congressman Anthony Weiner as being a pedophile and targeted him for "extreme/radical" electronic surveillance—but whose mission
was ended on 27 June 2010 with her arrest by US authorities
.
The SVR's "extreme/radical" electronic surveillance of Congressman Weiner was justified, this report explains, due not only to his being a sexual deviant, but, also, because his wife,
Huma Abedin
, was the top aide to then US Secretary of State Hillary Clinton—whom the Federation has long
noted is an "existential threat" to the entire world
.
This report doesn't mention in its unclassified portions if the SVR continued their electronic surveillance of Congressman Weiner, but does allude to the CIA picking up this investigation where intelligence officer Anna Kushchyenko left off—and as evidenced by the
CIA's outing him as a sexual deviant 11 months later in May 2011
.
To why the CIA turned the SVR's Congressman Weiner surveillance operation against Hillary Clinton's top aide Huma Abedin, this report further notes, was due to Secretary Clinton, in 2011, ordering the killing of Libyan leader Muammar Qaddafi (
and the destruction of Libya
)—who
was a major CIA asset and had allowed, since 2004, this US spy agency to use his country to interrogate (actually torture) high value Islamic terror leaders
.
Within 24 hours of President Putin directing FBI Director Comey to look for answers about Congressman Weiner's association with Russia by asking Aleksandr Poteyev (really the CIA), this report continues, Director Comey notified the US Congress that his investigation into Hillary Clinton was being re-opened—and was due to
the "mysterious/magical" appearance of tens-of-thousands of secret Hillary Clinton emails discovered on the computer of former Congressman Weiner
, and that led Watergate journalist
Carl Bernstein
to state that
a "real bombshell" had been discovered otherwise the FBI wouldn't have dared begin this whole sordid process again
.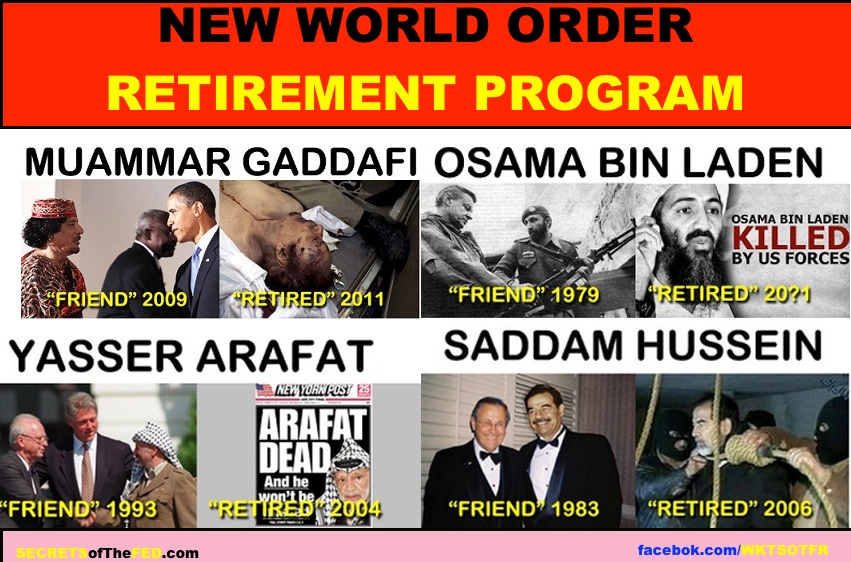 To how the Obama regimes FBI, CIA and Department of Justice (
DoJ
) will untangle the Hillary Clinton catastrophe they've ensnared themselves, and the American people, into this report doesn't even venture an opinion on—but it does conclude by noting that the chaos enveloping America right now includes not only their presidential election, but
Attorney General Loretta Lynch stunningly pleading the 5th Amendment in a letter to the US Congress this week over the payment of $1 billion in cash to Iran
, and a terrifying
new US Federal Rules of Criminal Procedure set to go into effect on 1 December that will legalize the ability of the US government to hack into computers in any jurisdiction, even in foreign nations
.
Leading any ordinary American, one would think, to ask of themselves the same thing Donald Trump has been asking: "
Why not vote for me, what the hell do you have to lose?
"—after all, with Hillary Clinton having already been
caught on tape talking about rigging one election
, whose to say she isn't about to do it again?
Source
Posted: 29 Oct 2016 03:55 AM PDT
A new email released by Wikileaks as part of the Podesta dump features Hillary ally Wendy Bronfein advising Clinton campaign chairman John Podesta on how to reach "f**king dumb" young people.
Marketing executive Bronfein
tells Podesta in Wikileaks ID 34866
that Clinton "may not be the best face" to attract younger voters and that she needs to utilize "trending figures" as par of an "infusion to pull younger voters" because "that's the crap that young people pay attention to".
Bronfein goes on to state, "It's f**king dumb but being "cool" counts for more than it maybe should."
She references Bill Clinton's saxophone playing as an example of this before asserting, "I hate to generalize a generation but by social media nature, they "follow". So if someone they identify as cool endorses – they will likely fall in line with that candidate."
Bronfein is introduced to John Podesta in another email as someone who "could be immensely helpful in improving HRC's connection to millennials."
The email is yet another example of the disdain that Hillary insiders have for Clinton's own voters.
Yesterday, we
highlighted
how Clinton ally Brent Budowsky accused Hillary operative David Brock of having a plan that relied upon black voters being "stupid".
In an audio recording leaked earlier this month, Hillary Clinton was
caught on tape
saying Bernie Sanders supporters are "living in their parents' basement" and had bought into a "false promise". In another Wikileaks Hillary Clinton was caught calling Bernie Sanders youth supporters "
bucket of losers
".
In
another email
, Clinton operative Bill Ivey spoke of the need to maintain political power by producing "an unaware and compliant citizenry".
Source
Posted: 29 Oct 2016 03:32 AM PDT
Around 300 civilians were killed in eleven airstrikes conducted by the US-led coalition in Syria, which Amnesty International investigated for its latest report. Amnesty says the
US must come clean about the civilian toll
of its fight against Islamic State.
Amnesty suspects that US Central Command (CENTCOM), which directs coalition airstrikes in Syria,
"may have… carried out unlawful attacks" in Syria
, failing to take necessary measures to prevent civilian killings.
"We fear the US-led coalition is significantly underestimating the harm caused to civilians in its operations in Syria," said Lynn Maalouf, Deputy Director for Research at Amnesty International's Beirut regional office.
"It's high time the US authorities came clean about the full extent of the civilian damage caused by coalition attacks in Syria. Independent and impartial investigations must be carried out into any potential violations of international humanitarian law and the findings should be made public."
Amnesty investigated evidence, including eyewitness accounts, reports by human rights organizations and the media, photographs and video footage as well as satellite imagery, related to 11 suspected coalition attacks in Syria. The group estimates that the attacks have claimed as many as 300 civilian lives. So far none of these deaths has been acknowledged by CENTCOM.
The report published on Wednesday added that the total civilian death toll from coalition action "could be as high as 600 or more than 1,000" since the operation against Islamic State (IS, formerly ISIS, ISIL) started in Syria in 2014.
One of the strikes investigated by Amnesty took place in the early hours of December 7, 2015. The attacks hit two houses in the village of Ayn al-Khan, near al-Hawl in al-Hasakah governorate in northern Syria, killing 40 civilians, including 19 children, and injuring at least 30 others, the report said.
According to an eyewitness account, an initial night strike was followed by a second attack from a helicopter gunship, which hit first responders trying to dig out survivors.
"At this point I had a two-month-old baby boy in my arms whom I had rescued. The hit caused me to fall and drop him… I fell into the hole made by the air strike. That was what saved me… My mother, aunt, wife and children – a daughter who was four years old and a son who was two and a half were all killed. The woman and her son who I'd rescued were killed. Everyone but me was killed," the survivor said.
The strike is believed to have targeted IS fighters. But local Kurdish militia reportedly warned the coalition that there were civilians in the area.
Amnesty said CENTCOM's failure to acknowledge civilian deaths in Syria, as well as the poor record of investigating such incidents in Afghanistan and Iraq, poses grave concerns over the toll which the civilian population of Mosul, Iraq is likely to face from the ongoing operation to take the city from IS. The US-led coalition is providing air support for the offensive.
"Given the likely increase in air strikes by the US-led Coalition as part of the Iraqi offensive to recapture Mosul, it is even more pressing that CENTCOM be fully transparent about the impact of their military actions on civilians. And it is crucial that they adhere scrupulously to international humanitarian law, including by taking all feasible precautions to spare civilians and to minimize harm to civilian homes and infrastructure," said Maalouf.
A similar operation to capture Manbij, Syria, which is far smaller than Mosul, killed more than 200 civilians, Amnesty estimated.
Meanwhile, US State Department spokesman John Kirby said that the US "takes seriously all credible allegations of civilian casualties."
"Pentagon has a fairly comprehensive system for analyzing themselves what these allegations are and then, when they feel that they want further investigation, they do it. And unlike any other military in the world, they actually release the results of these investigations. And unlike any other military in the world, if the hold people accountable for their actions they [bring them to justice] too," Kirby said during the press briefing on Wednesday.
At the same time, he said that the Department of State is not aware of the Amnesty's report about the US Central Command (CENTCOM) strikes in Syria and suggested contacting the Pentagon for that matter. He also welcomed the Amnesty's "input" and stressed that "no military tries harder than the US military to limit, to prevent casualties to civilians or damage to civilian infrastructure."
"We are not at all afraid to receive criticism about our efforts," Kirby added.
The 300 fatalities are those that Amnesty considers credible, but the number is likely around 900, the report's author, Neil Sammonds, told RT. He said that while there were some indications that the Pentagon would try to improve the targeting of its strikes in Syria, so far this hasn't happened.
"Until now the big picture in Syria is that they are not investigating thoroughly enough, they are not aware as they should be of the amount of civilians they have killed, and it means that it is quite possible that they will be killing more civilians in their campaign to retake Mosul from Islamic State."
He added that Amnesty was focusing on other parties in the Syrian conflict, including the Syrian government, Russia, terrorist groups and armed rebels, who, he said, are responsible for more civilian deaths than the US-led coalition, which explains why the report didn't come sooner.
Last week, Amnesty International blasted Russia for civilian deaths in Aleppo. The Syrian city is divided between government forces and various armed groups, including the Al-Qaeda offshoot Al-Nusra Front. Russia says that the militants use civilians as human shields and would not allow them to leave the city, derailing several attempts by Russia to open humanitarian corridors out of the city.
Source
Posted: 29 Oct 2016 03:22 AM PDT
Dominion Voting Systems
brags on its home page that "Together with our customers, we strive to change elections for the better!"
Wikipedia currently reports
that Dominion provides voting machines to 22 states.
If you hit the link to this statement, however, the supporting post has now been taken down.
Dominion Voting Systems is owned by George Soros an internationalist billionaire who is openly supporting Hillary Clinton and donated to her campaign dozens of millions of dollars.
We now know that the machines are already flipping out votes from Donald Trump to Hillary Clinton in Texas, Illinois, North Carolina and other states. The people working at the voting boots always find out some WHATEVER excuses while so far there hasn't been a single vote switched from Hillary to Trump.
No wonder they're so confident about winning!
Soros is also said to control a British company called Smartmatic, which had something to do with election fraud in Venezuela. Thanks to the Smartmatic machines, communists "won" the elections over and over again.
Smartmatic is tied to Soros' Open Road Foundation and it used to have a subsidiary called Sequoia. Sequoia electronic voting machines are used in the US general election. Sequoia was eventually sold to Dominion Voting Systems.
How do you like that people? The man in charge of counting your votes happens to have a favorite.
This is exactly like Joseph Stalin's famous quote:
"The people who cast the votes don't decide an election, the people who count the votes do."
It does't matter that you go out and vote for Trump, what matters is that Soros is gonna count votes the way he wants to and that's just not right to have a private person in charge of the elections basically.
Soros needs to have his entire fortune confiscated by the US government, nationalized and included in the state budget and have him locked up for the rest of his miserable life. Remember how those commie SJWs call for equality and taking from the rich and giving to the poor? Sure lets start with this high-profile thief right here.
The system is rigged people and Trump is right! Voting should only be on paper not on machines which can be manipulated easily!
Posted: 28 Oct 2016 03:25 PM PDT
The FBI has learned of more emails involving Hillary Clinton's private email server while she headed the State Department, FBI Director James Comey told several members of Congress, telling them he is reopening the investigation.
"In connection with an unrelated case, the FBI has learned of the existence of email that appear to be pertinent" to Clinton's investigation, Comey wrote to the chairs of several relevant congressional committees, adding that he was briefed about the messages on Thursday. "I agree that the FBI should take appropriate investigative steps designed to allow investigators to review these emails to determine whether they contain classified information, as well as to assess their importance to our investigation."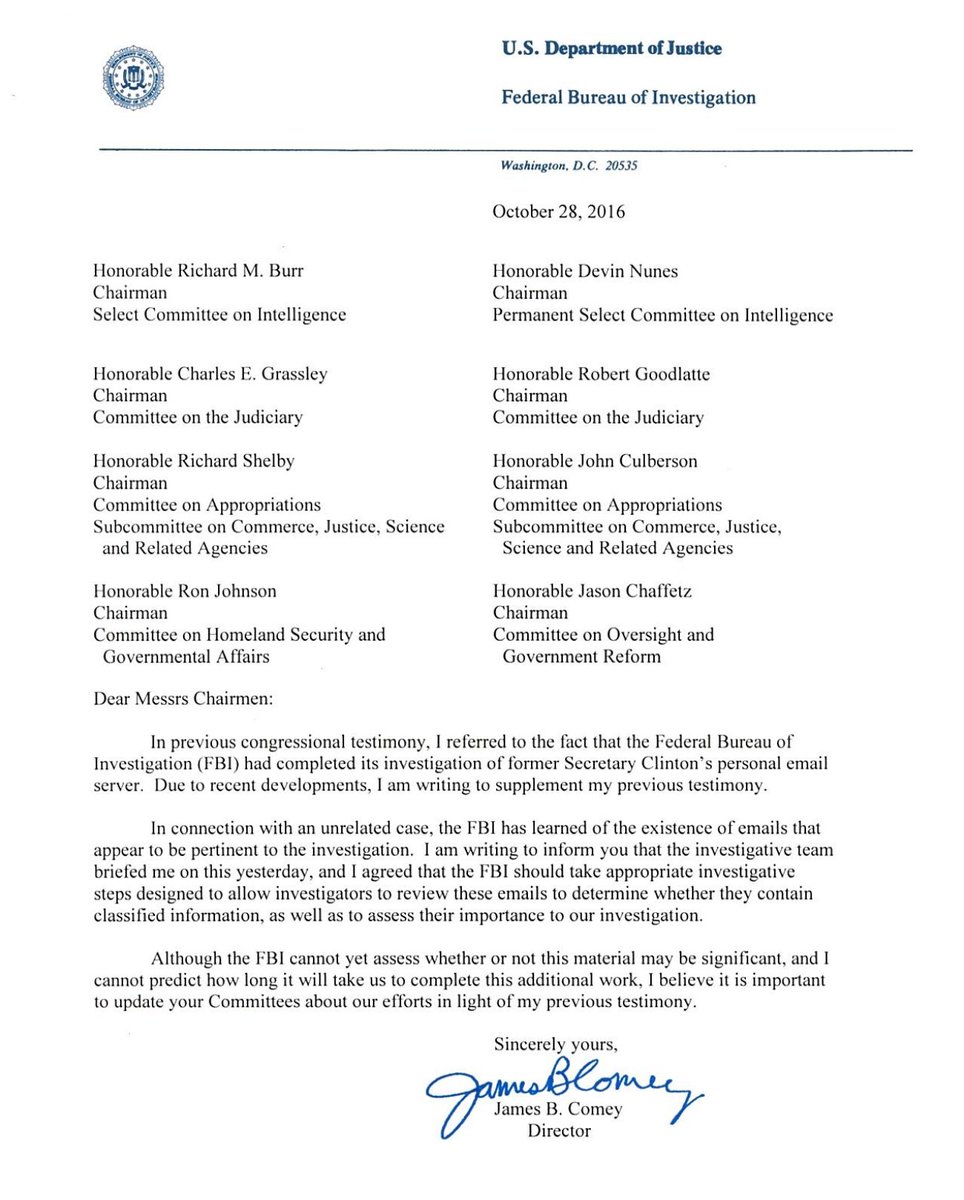 The FBI director cautioned, however, that the bureau has yet to assess the importance of the material, and that he doesn't know how long that will take.
The Clinton campaign has yet to comment, but an aide told CNN: "We're learning about this just like you all are."
Democratic vice presidential nominee Tim Kaine was asked about Comey's letter while campaigning at an early voting site in Tallahassee, Florida. "Gotta read a little more, gotta read a little more," he told reporters.
Representative Bob Goodlatte (R-Virginia), chair of the House Judiciary Committee, praised the decision to reopen the case.
"Now that the FBI has reopened the matter, it must conduct the investigation with impartiality and thoroughness," he said in a statement. "The American people deserve no less and no one should be above the law."
Almost 15,000 new Clinton emails were discovered in September, but it's unclear if the announced investigation relates to them or other correspondence. The newly discovered emails are not related to Wikileaks or the Clinton Foundation, law enforcement sources told CNN's Evan Perez.
The messages were not found on the private email server in the Clintons' New York residence, a government source told Reuters.
The emails were apparently discovered as part of the sexting probe into former Representative Anthony Weiner (D-New York), the New York Times reported. His electronic devices, as well as those belonging to his wife, senior Clinton aide Huma Abedin, were seized during that investigation.
House Speaker Paul Ryan (R-Wisconsin) renewed his call for Director of National Intelligence James Clapper to "suspend all classified briefings for Secretary Clinton until this matter is fully resolved."
"Yet again, Hillary Clinton has nobody but herself to blame," Ryan said in a statement. "This decision, long overdue, is the result of her reckless use of a private email server, and her refusal to be forthcoming with federal investigators."
Kellyanne Conway, Republican nominee Donald Trump's campaign manager, applauded the decision.
"That is superb. That is extraordinary news for the American people," she told Yahoo News. "A great day in our campaign just got even better," she tweeted.
"They are reopening the case into her criminal and illegal conduct that threatens the security of the United States," Trump said in Manchester, New Hampshire, 10 minutes after learning about the reopening of the case. "We must not let her take her criminal scheme into the Oval Office."
"I have great respect for the fact that the FBI and the Department of Justice have the courage to right the horrible mistake that they made," he said. "This was a grave miscarriage of justice that the American people fully understand, and it is everybody's hope that it is about to be corrected."
"With that being said, the rest of my speech is going to be so boring. Should I even make the speech?" he joked before turning to his prepared remarks.
The "FBI reopening investigation isn't an October surprise, it's an October nuclear explosion," conservative political commentator Ben Shapiro wrote as part of a tweetstorm, adding that "Comey [is] trying to cover his a** 11 days before [the] election" and wondering if a "pre-emptive impeachment of a president elect" is possible because "the odds on President Tim Kaine just rose substantially."
An 'October Surprise' is a major event that happens in the month before the election that affects the outcome of the vote.
In response to the announcement, the Democratic Coalition Against Trump filed a complaint with the Department of Justice against Comey.
"It is absolutely absurd that FBI Director Comey would support Donald Trump like this with only 11 days to go before the election," Scott Dworkin, senior advisor to the Democratic Coalition Against Trump, said in a statement. "It is an obvious attack from a lifelong Republican who used to serve in the Bush White House, just to undermine her campaign. Comey needs to focus on stopping terrorists and protecting America, not investigating our soon to be President-Elect Hillary Clinton."
Stocks fell after Comey's announcement, CNBC reported.
Source