| | |
| --- | --- |
| | |
---
Posted: 31 Oct 2016 07:53 AM PDT
Democrat pollster Doug Schoen, who advised President Bill Clinton's 1996 reelection campaign and worked on Hillary Clinton's failed 2008 presidential bid, has withdrawn his endorsement of Hillary Clinton for the presidency following the renewal of the FBI investigation into Clinton and her her top aide Huma Abedin. Schoen said he fears a constitutional crisis should Clinton be elected and sworn into office while under investigation
Schoen made the announcement on the Fox News Channel Sunday night where he is a contributor. Video of the announcement was posted to Twitter.
(Transcribed by Kristinn Taylor.)
Shoen, ""I've been a supporter of Secretary Clinton."
Host Harris Faulkner, "We all know, yeah!"
Schoen, "You do know. But, and the but is a big deal, at least to me. Given that this investigation is gonna go on for many months after the election."
Faulkner, "No matter who wins."
Schoen, "No matter who wins. But if the secretary of State (Clinton) wins we will have a president under criminal investigation with Huma Abedin under investigation, the secretary of State–the president-elect–should she win under investigation. Harris, under these circumstances I am actively reassessing my support. I'm not a Trump…"
Faulkner, "Whoa, whoa, whoa, whoa, wait a minute. You're not gonna vote for Hillary Clinton?"
Schoen, "Harris, I'm deeply concerned that we will have a constitutional crisis if she's elected. I want to learn more this week see what we see. But as of today I am not a supporter of the secretary of State for the next…"
Faulkner, speaks over Schoen, "How long have you known the Clintons, sir?"
Schoen, "I've known the Clintons since 1994."
Faulkner, "Wow."
Schoen was on a panel with fellow Democrat pollster Pat Caddell and former Republican Congressman John LeBoutillier.
Schoen's bio
reads in part:
Douglas E. Schoen has been one of the most influential Democratic campaign consultants for over thirty years. A founding partner and principle strategist for Penn, Schoen & Berland, he is widely recognized as one of the co-inventors of overnight polling.
Schoen was named Pollster of the Year in 1996 by the American Association of Political Consultants for his contributions to the President Bill Clinton reelection campaign.
His political clients include New York City Mayor Michael Bloomberg and Indiana Governor Evan Bayh, and his corporate clients include AOL Time Warner, Procter & Gamble and AT&T. Internationally, he has worked for the heads of states of over 15 countries, including British Prime Minister Tony Blair, Italian Prime Minister Silvio Berlusconi, and three Israeli Prime Ministers…"
Source
Posted: 31 Oct 2016 07:12 AM PDT
Project Veritas Action has released the sixth video in a multi-part series that is sending shockwaves through the DNC and the Clinton campaign. In a new video released by Project Veritas Action, a PVA journalist exposes how his pay for play with Robert Creamer landed him a meeting with Bradley Beychock, the President of Media Matters For America, an organization that has been attacking James O'Keefe for years.
Bradley Beychock is first seen in the undercover video bragging how he is responsible for taking knowable conservative voices off TV stations with pressure campaigns: "Lou Dobbs from CNN left now and he is on FOX Business, Glenn Beck off of FOX News." So it seems that there is simply no tolerance and no room left for conservatism in the media, yet they claim the system isn't rigged? Of course its rigged!
During the meeting, Beychock gave the PVA journalist a tour of their offices. He also proudly boasted about the Media Matters assault on conservative writer and political consultant Roger Stone.
"So I think for Trump, our big role as a media watchdog has been to take his MVPs and put them on the sidelines. So the first one was Roger Stone," said Beychock.
James O'Keefe interviewed Stone and showed him the footage, to which Stone responded.
Shortly after James O'Keefe and Roger Stone were interviewed together on Alex Jones's show, Media Matters put up the Alex Jones interview on their website.
Media Matters is funded by Clinton confidante George Soros.
Project Veritas Action Fund (AKA Project Veritas Action) was founded by James O'Keefe to investigate and expose corruption, dishonesty, self-dealing, waste, fraud and other misconduct.
Source
Posted: 31 Oct 2016 05:48 AM PDT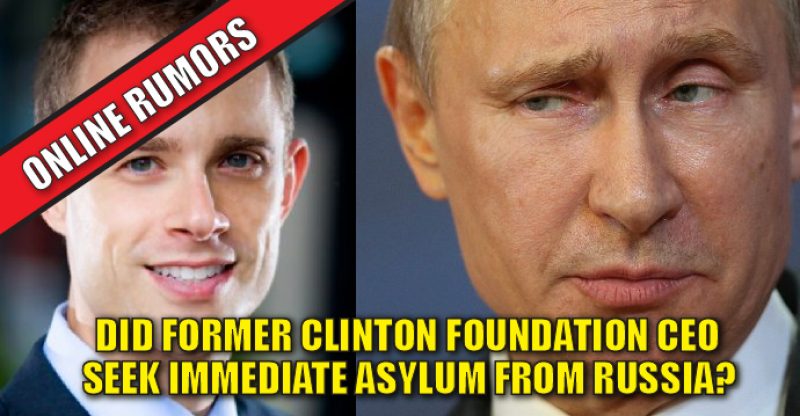 Another astonishing Security Council (
SC
) report circulating in the Kremlin today states that the Main Directorate for Migration Affairs (
GUVM
) of the Ministry of Internal Affairs (
MVD
) reported this morning that former Clinton Foundation CEO
Eric Braverman
, who last week
applied for "urgent and immediate" political asylum at the Russian Embassy in New York City
, failed to keep his scheduled interview yesterday—with speculation being made by Federation intelligence analysts that his having gone missing is "directly related" to the
mysterious and sudden death
of Donald Trump's top money guru
E. Lee Hennessee
. [Note: Some words and/or phrases appearing in quotes in this report are English language approximations of Russian words/phrases having no exact counterpart.]
According to this report, Mr. Braverman was scheduled to return to the Russian Embassy in New York City yesterday for an in-depth interview related to the request he made last week for "urgent and immediate" political asylum in Russia—and as
we had previously reported
, sent shockwaves through the Kremlin as some Federation intelligence analysts believed his request was for the purpose of "protection by publicity" due to his fears that the
Clinton Crime Family
wanted him killed.
Fears that he was being targeted for death by the Clinton Crime Family, specifically Hillary Clinton, this report continues, was due to Mr. Braverman's past association with the
Clinton Foundation criminal money laundering organization
that he
headed as CEO
after being installed there by Chelsea Clinton
who discovered for herself the massive corruption of this supposed to be charity
.
With the American press widely reporting (though skeptically) Mr. Braverman's asylum request ("
a simple "here I am" could quiet the waters – but there has been none
"), however, this report notes, Federation intelligence analysts contributing to this report note that not only did he fail to keep yesterday's interview date at the Russian Embassy in New York City, he has yet to publically deny his actions, and
since 12 October has failed to even update his Twitter page account
.
To why Mr. Braverman has gone silent and missing, this report continues, the Foreign Intelligence Service (
SVR
) is attributing to yet another Clinton Crime Family related mysterious death—this one being Donald Trump's longtime billionaire money guru E. Lee Hennessee, age 64, found dead this past week in her Trump Plaza home, located in West Palm Beach, Florida—with one media account suggesting it was
related to a domestic harm case involving her husband and longtime business partner
, and
another saying she died of a stroke
—but with no autopsy having yet been performed.
Donald Trump's money guru E. Lee Hennessee, this report explains, was
one of the most powerful women financiers on Wall Street
whose company,
Hennessee Group LLC
, achieved
a staggering 2,132% increase of profits between 1987-2015
and was co-run by her husband
Charles Gradante
.
As to why Hillary Clinton feared and hated E. Lee Hennessee, this report says, is due to her having created for Donald Trump an "extraordinary/unique" investment portfolio that, in essence, has allowed him to run his revolutionary presidential campaign entirely debt free costing him virtually nothing as for every dollar he spent, he was able to gain back two more—thus making it
the first US presidential election run in history to turn a profit
.
With what is infamously called
the Clinton Body Count rapidly increasing through this US presidential election cycle
, this report concludes, there now appears to be a breaking of support of Hillary Clinton among America's elites, with even the Chicago Tribune this past week saying
Democrats should ask Clinton to step aside as the American political system is breaking down and their warning that it's been crumbling for some time now, and the establishment elite know it and they're properly frightened
—and is most assuredly going to get worse with the shocking revelation that
the FBI has now discovered a staggering 650,000 Hillary Clinton secret emails on the computer of her top aide Huma Abedin's disgraced pedophile husband Anthony Weiner
.
Source