| | |
| --- | --- |
| | |
---
Posted: 12 Nov 2016 07:10 AM PST
The demonstrators in Seoul chanted "Arrest Park Geun-hye!" "'Step down, criminal!" and "We can't take this any longer."
They also held lit candles and banners, reading "Park Geun-hye out!" and "Treason by a secret government."
Hundreds of thousands are gathering in the center of the capital of South Korea to take part in a large-scale demonstration, demanding President Park Geun-hye's resignation, local media reported Saturday.
Police believe that about 220,000 people will join the protest, while organizers the number to stand at 850,000, according to the Yonhap news agency.
Police is reportedly going to send about 25,000 officers to patrol the streets.
On October 24, the JTBC television network reported that president's friend Choi Soon-sil allegedly received drafts of Park's speeches before they were publicly delivered, despite having never held a public post. The following day, Park officially admitted asking Choi for advice on speeches and public relations issues, and apologized for "causing public concern."
The revelation has caused massive anti-government protests in the country, with people and opposition parties calling on the president to resign. An arrest warrant has been issued for Choi, while the president expressed her willingness to testify in the case.
Source
Posted: 11 Nov 2016 02:58 PM PST
Julius Malema, the leader of South Africa's Economic Freedom Fighters (Communist and very anti-White), literally says that
they won't slaughter Whites YET
, as long as they give them what they want.
"The land must be expropriated without compensation."
"We are not calling for the slaughter of White people,

at least for now

."
"The rightful owners of the land are Black people. No White person is a rightful owner of the land here in SA and the whole of the African continent."
The EFF's national spokesperson, Mbuyiseni Ndlozi, echoes Malema's threat: "We hope land restoration will not have to come to a situation where Blacks have to also slaughter Whites."
What's shocking is that this news has been censored from the Western media. Instead, they are fixated on criticizing Donald Trump 24/24 even now after he won the election. Some are continuing to call him "racist" in the media but if Donald Trump is racist for building a wall then what is Julius Malema who is threatening to genocide an entire group of people?
The BBC is just one of those corruption establishment media groups downplaying this news. A politician openly talks about slaughtering White people, so what headline does the BBC write? That he "
challenges apartheid-era law
".
Most of South Africa was empty/uninhabited territory
(
not entirely, but most of it
) when Europeans colonized that land. It wasn't "stolen" from anyone but perhaps Julius Malema is right and whites should get deported from their country which is also their continent, unless they want to face
mass slaughtering like in Zimbabwe
…
But if whites should leave Africa or face slaughter, shouldn't blacks leave Europe or America? This humiliation whites are swallowing for ages has got to stop. Our forefathers weren't wimps, they were Vikings, Goths, Romans, Spartans! When are we going to stand up to our rights and defend our honor?
Posted: 11 Nov 2016 02:32 PM PST
A mosque destroyed in Soviet era Belarus, which has been rebuilt in the capital city of Minsk with the help of the Turkish Presidency of Religious Affairs (Diyanet) will be opened by President Recep Tayyip Erdoğan on November 11, 2016.
Built in 1890 by the Muslim community of Belarus, which is mainly composed of Tatars, the mosque was destroyed 54 years ago by Soviet officials who planned to replace it with a hotel. The rebuilding of the mosque was undertaken in 2014 and completed recently in line with its original Tatar architectural design and traits.
The topping-out ceremony of the mosque is scheduled to take place on November 11, with the participation of Erdoğan, his Belarusian counterpart Alexander Lukashenko, ministers and officials from both Belarus and Turkey, as well as religious representatives from Eurasian countries.
The mosque will be able to accommodate up to 2,500 people for prayer. The altar, pulpit and carpet will bear Turkish Ottoman features in addition to its original architectural design, while the entrance floor of the mosque will include a conference room, a computer room and an exhibition hall.
Belarus is home to several thousand Muslims. Islam has a long history in the eastern European country; Tatars introduced Islam to Belarus as early as the 14th century. Ever since, Islam carved its own place in the history of the country and the region.
Diyanet as well as the Turkish Cooperation and Coordination Agency (TİKA) have been working for several years in the restoration of mosques and other historical monuments throughout the world, including the Middle East and the Balkans.
Source
Posted: 11 Nov 2016 01:57 PM PST
Elly Warren, from Melbourne, was expected to return to Australia on Monday before heading to New Zealand with her boyfriend for a holiday.
Days before she set off for Africa, the 20-year-old told her father: 'It's dangerous Dad, I don't know if I should be going over there.'
And things took a turn for the worst after she was raped and attacked when she reportedly walked home alone from a party in Mozambique on Wednesday.
The young traveller had booked two nights at the beachfront Wuyani Pariango backpackers in the picturesque Tofo Bay but she failed to return to her room.
Speaking to Daily Mail Australia, the hostel manager, who wished to remain anonymous, said staff members had seen the woman before she went missing.
'She came in alone to drop off her bag and then left to meet a friend,' the hostel manager revealed.
'She had pre-booked her accommodation but never stayed here.'
Daily Mail Australia understands Ms Warren's body is currently being transported from Tofo Beach to the country's capital Maputo, some 500 kilometres away where a post-mortem will be performed.
Paul Warren, the distraught father of the avid traveller, is currently travelling to Mozambique in an effort to bring his daughter's body home.
On Thursday he revealed his heartbreak over his daughter's terrible death.
A tearful Mr Warren told 7News: 'She even told me, "It's dangerous dad, I don't know if I should be going over there".
'And I said to her: "Yes it is, very dangerous".'
On Thursday evening, hours after paying a moving Facebook tribute to his daughter, Mr Warren also revealed on social media an autopsy would be conducted to determine her cause of death.
'I would just like everyone to pray for our Elly right now,' he wrote on Facebook.
'She is at peace with Sam, our dog, who she grew up with and loved dearly. Thank you all for your thoughts and well wishes Elly touched us all in some special way.
'The funeral is going to take some time as Elly was in a remote fishing village called Pemba.
'There is going to be an investigation and autopsy, which I have been informed can take up to two weeks.
'I will be going over there in a few day to bring my baby back home. God bless you Elly Rose Warren.'
Her family, who found out about the young traveller's death in a heartbreaking late-night phone call from another backpacker, believe she became separated from her group before her body was later found in a toilet cubicle, The Age reported.
The revelation comes after her sister Kristy Warren took to Facebook to warn backpackers to be 'careful who they go [travelling] with'.
'My sister was in Africa whilst my mum got a phone call from one of the backpackers saying to her that her daughter has been murdered,' Ms Warren posted to Facebook.
'As I heard that my heart dropped. It is a parent's nightmare to get a phone call like this.'
Describing her sister as 'maybe too ambitious', she urged travellers to be vigilant when overseas.
'I want to say if you are thinking of going travelling or going overseas please be careful who you go with,' she wrote.
Ms Warren had been in the country since late September as part of Underwater Africa, a conservation program that 'helps protect the oceans'.
The volunteer tour's booking manager Graeme Warrack told Daily Mail Australia the young traveller had left their group the day before she was killed.
'Elly arrived with us on the 27th of September and left our program on the November 8,' he said.
'We dropped her at her new accommodation at 5pm, to hear the news the next day has left us as broken as anyone can be, she was our friend and colleague.
'We're trying to find out where exactly she went once she left us, that's something we can't answer.'
Mr Warrack described Ms Warren as 'the life of the party' and said her death had taken a large toll on her fellow volunteers and scientists.
'Elly was an incredible volunteer who was doubtlessly the life and soul of any activity,' he said.
Ms Warren's mother, Nicole Cafarella told The Age her daughter was 'just one of those girls that wanted to travel the world and see everything she could before she was 30'.
Just days earlier Ms Warren had posted a video to Facebook of herself swimming with whale sharks off the Mozambique coast.
Dozens of online tributes flowed from Ms Warren's friends from Wednesday evening when news broke of her death.
'Taken way too soon, a gorgeous girl who had an amazing life ahead,' one girl wrote on Facebook.
'I feel like this is all just a f***ed up dream… It can't be true. Rip Elly Warren I'll never forget your huge infectious smile and crazy stories. I love you,' another posted.
In a statement to Daily Mail Australia, the Department of Foreign Affairs and Trade said they were 'providing consular assistance to the family of a woman who died in Mozambique.'
Source
A 20-year-old woman who was travelling in Africa was last seen dropping off her bag at a beachside hostel before being found dead in a toilet cubicle.
Posted: 11 Nov 2016 01:44 PM PST
Barack Obama gave up on TPP
according to The Wall Street Journal.
The ruling coalition of the Liberal Democratic Party and Komeito backed the agreement, while most of the opposition boycotted the vote.The bill was sent to the Upper House for final approval, with the ruling coalition expecting it to be signed into law by November 30.
TPP has been one of the key points in the economic program of Japanese Prime Minister, Shinzo Abe, who wanted to boost the country's exports. However, experts view the TPP approval by Japan as a more of symbolic gesture, as the deal is unlikely to ever get a green light under Trump.
During the campaign, the newly-elected president slammed the TPP, which was pushed forward by Barack Obama to limit China's economic power, calling the agreement a "disaster."
TPP was "dead and buried," Marcel Thieliant, Japan Economist from Capital Economics, told Deutsche Welle, adding that "the upshot is that the long-term losses for Japan from the TPP not coming into force are substantial."
A former Chinese diplomat, now with the China Institute of International Studies, suggested that the TPP would be the "first casualty" of Trump's success."Since China isn't in that bloc, we don't have anything to lose," Ruan is cited by Reuters as saying.
The demise of the TPP prompted Beijing to intensify efforts to achieving its own free trade deal in the Asia-Pacific. China's Vice Foreign Minister, Li Baodong, said that the country will be looking for support of its initiatives at the Asia-Pacific regional summit in Peru on November 19-20.
"Trade and investment protectionism is rearing its head, and Asia-Pacific faces insufficient momentum for internal growth, and difficulties in advancing reforms," Li told journalists.
"China believes we should set a new and very practical working plan, to positively respond to the expectations of industry, and sustain momentum and establish a free trade area in Asia-Pacific at an early date," he added.
Beijing proposed the Free Trade Area of the Asia Pacific (FTAAP) and the Regional Comprehensive Economic Partnership (RCEP) to regulate free trade in the area.
According to Li, the presence of Chinese President Xi Jinping in Peru confirmed Beijing's "confidence in promoting the FTAAP process." Previously, Beijing was concerned the TPP would be used by Washington to make China open it's markets by becoming part to the agreement or isolating the country from other economies in the region.
Obama had framed TPP, which excluded China, as an effort to write Asia's trade rules before Beijing could, establishing US economic leadership in the region as part of his "pivot to Asia".
Besides the US and Japan the TTP deal included Australia, Brunei, Canada, Chile, Malaysia, Mexico, New Zealand, Peru, Singapore and Vietnam.
The agreement was part of Washington's "pivot to Asia," with Obama hoping it would establish US economic leadership in the region by formulating Asia-Pacific trade rules before Beijing does it.
Source
Japan's Lower House of parliament has passed the controversial Trans-Pacific Partnership (TPP) free trade agreement, despite the fact the deal is likely doomed after Donald Trump's US presidential election victory. Even
Posted: 11 Nov 2016 01:36 PM PST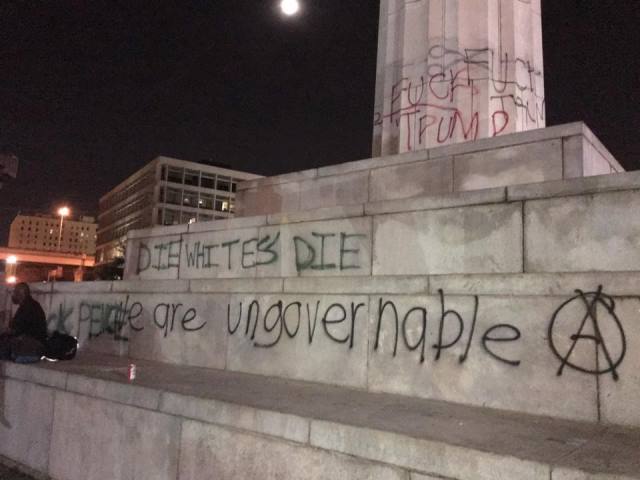 Illegals waving Mexican flags, blacks, communists, white social justice warriors burning American flags, gays, transgenders and basically all degenerated freaks of nature united in violent riots across the US, shouting and tweeting assassinate Trump chants. The photos and videos you are about to see should make your stomach turn upside-down. After you finish reading, scroll down and watch.
As an advice, avoid provoking these wild beasts unless you want to get beaten down badly, hospitalized or even killed, if they ask you who you voted for, lie to them, tell them Hillary Clinton, Gary Johnson or Jill Stein. We have seen countless aggravated assaults and even down-right murders in the last days against patriotic Americans who voted for Donald Trump. Do NOT engage these wild beasts no matter how much sorrow you may feel in your heart when you see different kind of scenes, such as burning of the US flag, torching stores, cars, chanting hate, etc. Let them go wild and do what they do until January 20th. After that, the law will crack down on them like you never seen before.
The American people have swallowed enough, soon retribution will come and millions upon millions will finally get deported and arrested. These people need to be punished. California in particular is worst. The millions of Mexicans who invaded California are now calling for "Calexit". Sure after illegally invading that state, they now call for it to secede so they can later unite it with Mexico. These people must think the Americans are stupid. Getting their hands on Silicon Valley and Hollywood for free? IT'S NOT GONNA HAPPEN MEXICANS! According to Wikipedia, there are only 38% whites living in California as of 2015 after decades of ongoing invasion. Due to the that the state is permanently locked as a blue Democrat state. Republicans can sit on their tongues and eat their own eyeballs and that state will never go red in the current condition it is. This makes the road for Republicans extremely difficult since California holds the larges number of electors, 55. Non-Hispanic whites decreased from about 76.3 – 78% of the state's population in 1970 to
38.0% in 2015
making them a minority in their own country. Its not like they committed suicide, they are still there but the number of migrants surpassed them, making them a minority now.
According to a census from 2010 when California had 37.2 million population in total (in 2015 it had 39.1 million) only 15.7 are white and 2.6 mil black. The rest is South American, mostly illegals. Those who are legal, are illegally legal if you understand what we mean. They've got their citizenship through Obama's amnesties. These people will always vote Democrat, riot and demand free stuff. They need to be deported immediately or America will lose California forever which would be a shame! America must not allow Calexist. Imagine losing Hollywood and Silicon Valley! You can't just immigrate to a foreign nation, then demand secession, then later demand unification with your country of origin.
You think this is a joke? Have a look! The media is telling you however that "Americans are calling to secession". No! These are South American invaders, mostly Mexicans! They need to get deported, all of them! Both LEGAL and ILLEGAL because most "legals" obtained their citizenship illegally.
So who is fomenting this? Go to minute 1:33
We know for a fact that most of these riots are planned and paid for by globalist billionaire George Soros. He too needs to be arrested along with his entire family and have his entire fortune seized and nationalized into the US federal budget. America could use his money, after all its dead broke! The bastard is already old, 83 years old to be exact and he may not live for much longer but still he should face justice for all the riots, calls to assassinations and violence he is provoking.
See these buses? They brought thousands of protesters to Austin, Texas! Yes, the riots are ORGANIZED, PAID, SPONSORED, etc. George Soros and his entire family needs to be locked up.
They are even running ads on Craigslist searching for more rioters:
Whites who are doing this are suffering from what is known as the
Stockholm Syndrome
. They do not even realize what they are doing.
These people look like they are straight from Noah's times, when God flooded the Earth because he had enough:
Watch what this woman did to her own child:
Here's the full video:
Peaceful leftists teaching 11 year old boy how to be tolerant:
More peace and tolerance:
California High school girl beaten for posting "I hope Trump wins" on Instagram: